Webinar
Versatile Swinging-Bucket Rotors for Primary Recovery and Rate-Zonal Separations
September 12, 2023
Register Now
Description
Centrifugation is an invaluable tool in research laboratories for separating and purifying complex mixtures. Several rotor types are available that vary in their angle relative to the axis of rotation, and distinct use cases for each type have been realized. The buckets in swinging-bucket rotors swing out to 90° as centrifugal force is applied, resulting in pellets being formed directly at the bottom of the tube or bottle. This swing-out mechanism enables unique purification techniques like rate-zonal separations and affords the use of adapters to boost versatility. In this webinar we will focus on selecting and implementing rotors and consumables, with a focus on situations in which swinging-bucket rotors are optimal.
In this webinar you will learn:
Advantages and disadvantages of swinging-bucket rotors for primary recovery and purification
Principles and case studies on rate-zonal separations
How to choose the right swinging-bucket rotors and consumables
Speaker Bio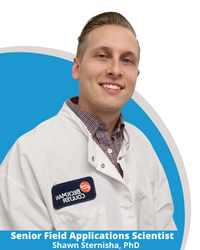 Shawn Sternisha, Ph.D.
Senior Field Applications Scientist, Beckman Coulter Life Sciences
Shawn Sternisha is currently a Senior Field Applications Scientist in the Biotechnology Business Unit at Beckman Coulter Life Sciences where he is primarily focused on the development of novel preparative and analytical ultracentrifuge applications. Shawn also supports market activities across all centrifugation product lines and is responsible for KOL and partnership management. Shawn attended Illinois State University for his undergraduate studies and went on to earn his Ph.D. in Biochemistry at Florida State University. Shawn is broadly interested in cell and gene therapy, extracellular vesicles, enzyme structure-function relationships, and expanding applications of ultracentrifugation. Shawn currently resides in Miami, FL with his wife Patty and their dog Ruby. In his free time, he enjoys cooking, running, traveling, and learning Spanish.