Next-Generation Sequencing (NGS) Library Preparation
Creating libraries for next generation sequencing is a tedious process that can take from 2.5 hours to several days to complete, depending on the type of library created. Great care must be taken to keep accurate records of which samples received which adapter. Pipetting each sample and reagent by hand can lead to pipetting inconsistencies, ultimately compromising precious samples. Automating NGS library preparation can minimize these constraints associated with manual processing. Automation solutions from Beckman Coulter Life Sciences are built to alleviate your pain points, whether you need robust automation for a few samples, or need a high-throughput solution to increase your capacity.
Biomek Workstations are configurable to handle workflow needs from microliter to milliliter transfers for nucleic acid isolations from primary sample tubes, to preparing sequence-ready libraries. The capability of Echo Acoustic Liquid Handlers to enable nanoliter to microliter transfers allows for the reduction of library prep costs through reaction volume miniaturization and acoustic non-contact transfers.
An example NGS sequencing workflow

Biomek Workstation Solutions for NGS
Enabling higher throughput while increasing efficiency, and reducing hands-on time, Biomek Workstations provide flexibility to maximize scheduling your day. Biomek data-demonstrated methods are developed in collaboration with leading technology vendors using real-world samples. Demonstrated methods can be run start to finish with full walk-away capability, and include optional start and stop points based on the kit vendor's recommendations.
Biomek Workstations offer scalable automation solutions for NGS sample prep workflows, including all steps involved from extraction through library construction. Biomek configurations are flexible and include capability for on-deck incubation, magnetic bead separation, and shaking, as well as optional enclosures and on-deck thermocycling, based on user needs.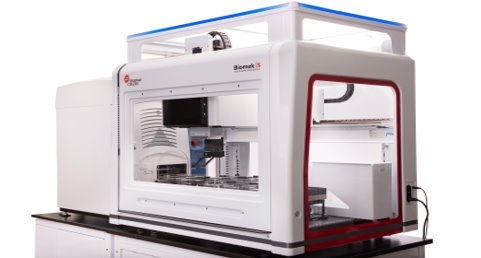 Biomek Workstation with an Echo Liquid Handler
Use of the Biomek Workstation with an Echo LH provides full workflow automation with the advantages of acoustic dispensing. The Biomek can directly integrate the Echo LH and control Echo application protocols, allowing the instruments to work together to accomplish a complex workflow. This is further enabled by integrating mixing, shaking and thermal cycling onto the Biomek to create a full walk-away solution.
Directly integrate the Echo LH to enable Biomek methods to process plates using Echo Application protocols
Protocols developed using the Echo LH as a stand-alone instrument can be automated using Biomek Methods
Run one or more Echo protocols using Biomek Methods
Run a full Echo protocol at one time, or run only selected plates within the Echo protocol
Full use of all features in the Echo application software, including identical well content and Echo application reports
Visually assign plates to the Echo protocols or use barcoded plates with an Echo picklist transfer file
Echo LH well volume, dispense and exception data is assigned to plates handled in the Biomek Method for additional calculations and reporting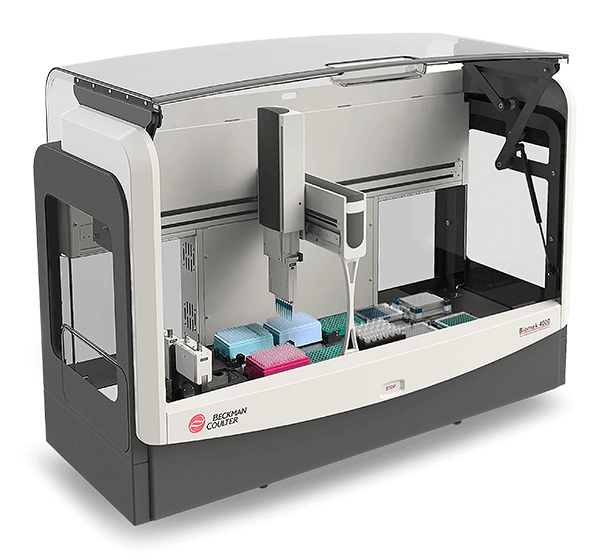 Biomek 4000 Workstation
For laboratories that are new to automation, the Biomek 4000 Workstation automates NGS workflows to minimize hands-on time.
Extended scalability by 12 deck positions with 4 off-deck mounts
Flexibility provided by single- or 8-channel pipette head options and on-the-fly automated exchange between tools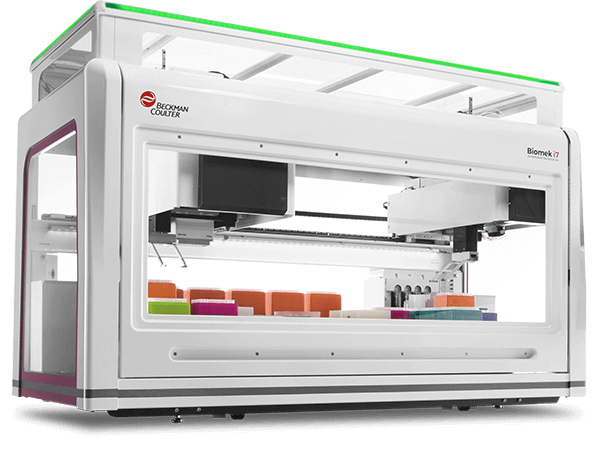 Biomek i7 Workstations
For high-throughput laboratories, the Biomek i7 Workstation provides a complete walk-away solution to maximize return on investment (ROI)
Spacious, open-platform with 45 deck positions for high-throughput applications
Multiple configurations to suit workflow needs, e.g., Hybrid Workstation with Multichannel pod, Span-8 pod and two independent grippers. Other pipetting configurations are possible as well.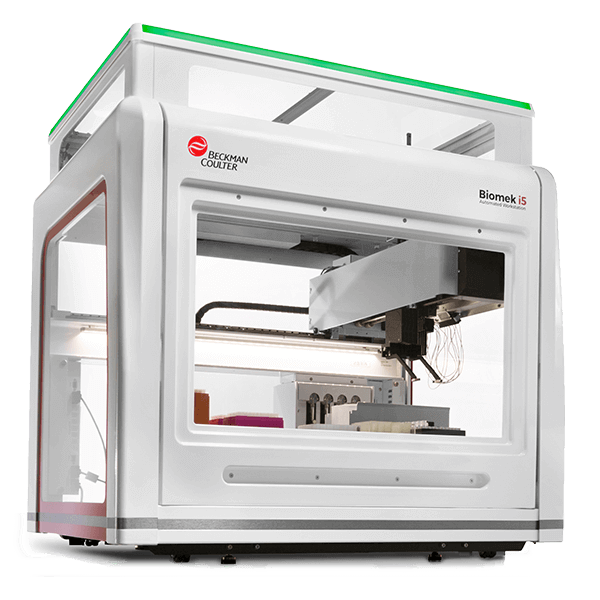 Biomek i5 Workstations
For medium- to high-throughput laboratories, the Biomek i5 Workstation provides scalable automation that grows with changing workflow needs.
25 deck positions to support mid-throughput workflows
Multichannel or Span-8 with gripper options to suit the workflow specifics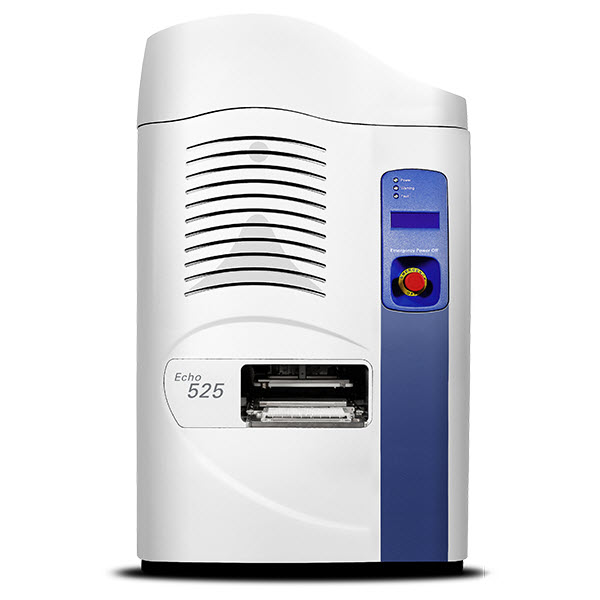 Echo Liquid Handlers for NGS
Echo acoustic liquid handling (LH) technology revolutionizes genomic applications by using sound energy to enable highly accurate, fully automated, non-contact and tip-less transfers of fluids in nL to μL volumes. Using the transducer and the proprietary dynamic fluid analysis, the fluid transfer is achieved by rapidly transferring multiple droplets per second. Transfers can be made from any well in the source to any well in the destination in under a second
Accurate and precise nL to µL transfers (up to 8% CV and up to 10% inaccuracy) down to 25 nL
Reduce reaction volumes of precious reagents by nano-liter dispensing, e.g., up to 20X cost savings on the tagmentation step of the Nextera XT workflow 1
Reduced possibility for cross-contamination through non-contact dispensing
Reduce the time it takes for barcoding/indexing, normalization and pooling due to non-contact and tip-less transfers, enabling a streamlined workflow, e.g., Reduce reaction assembly time for concentrated oligo dispense: > 60% reduction in time (45 minutes compared to 2 hours with pre-pooled stocks) 2
1 Illumina Nextera XT Miniaturized on Biomek i5 Multichannel 384 & Echo 525 Liquid Handlers Nextera 21.08.2252 AUTO
2 High-throughput next-generation DNA sequencing of SARS-CoV-2 enabled by the Echo 525 Acoustic Liquid Handler, Fry Labs case study, 21.02.842.AUTO
The method/application illustrated is for demonstration only, and is not validated by Beckman Coulter. Beckman Coulter makes no warranties of any kind whatsoever express or implied, with respect to this protocol, including but not limited to warranties of fitness for a particular purpose or merchantability or that the protocol is non-infringing. All warranties are expressly disclaimed. Your use of the method is solely at your own risk, without recourse to Beckman Coulter. Biomek and Echo Automated Workstations are not intended or validated for use in the diagnosis of disease or other conditions.
Products identified are not for use in diagnostics procedures.
© 2021 Beckman Coulter, Inc. All rights reserved. Beckman Coulter, the stylized logo, and the Beckman Coulter product and service marks mentioned herein are trademarks or registered trademarks of Beckman Coulter, Inc. in the United States and other countries. ECHO is a trademark or registered trademark of Labcyte Inc. in the United States and other countries. Labcyte is a Beckman Coulter company.
All other product names and brands are properties of their respective owners.
Talk To An Expert
Biomek Workstation Solutions for Genomic Applications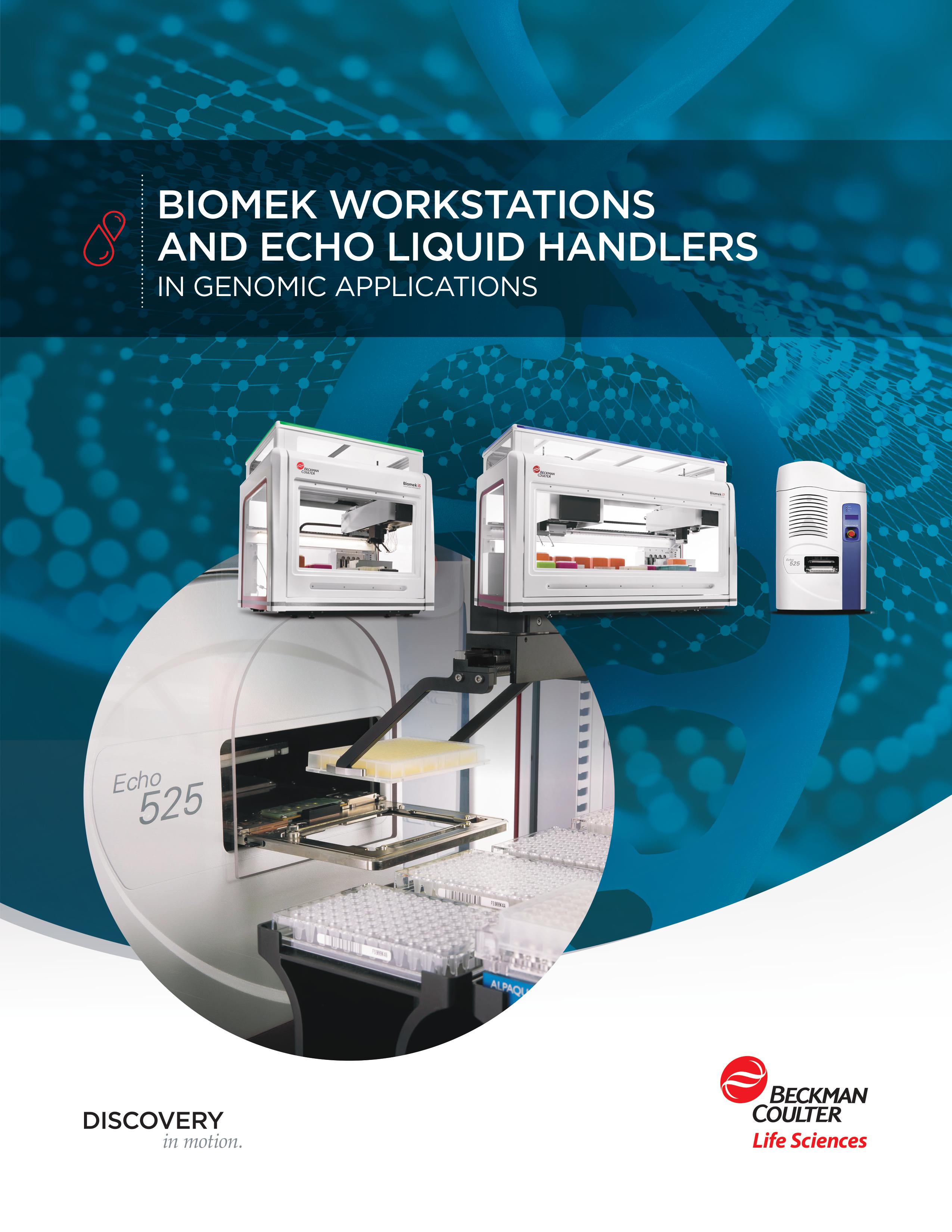 Biomek-Automated NGS Library Construction Methods