Bioprocessing Cell Culture
Production QC
Bioreactors in manufacturing labs are responsible for growing cells to be used in drug production. Production labs use a range of bioreactors which increase in scale to achieve the target cell density required for downstream use.
One of the daily monitoring steps for QC technicians is to regularly check the media and viability of the cells being scaled up in the bioreactor series. While a batch is running through production, the operator is responsible for following the standard operating procedure (SOP) to pull a sample at a specific time and tests the sample to ensure it falls within the process range of viable cell concentration and/or viability. For each day there is an expected process range and the technician is responsible for testing the cells to verify if they are correctly within the range. These tests are recorded with a date, time point and operator to ensure traceability of each sample taken.
Cell viability analysis indicates the number of cells that are viable or "live" in the bioreactor and is usually reported as viable concentration (VCD), number of viable cells per milliliter, percent viability. Technicians also test for metabolic activity, which includes parameters such as pH, cell culture gas, electrolytes, and metabolites. This information is critical to ensure consistency in production so the drug produced meets standards.
Product Efficacy QC
Prior to distributing a drug, a product efficacy test is conducted to check the drug performance. Assays are run to ensure the drug performs as it is intended to do. If a cell based assay is used for this purpose then the efficacy of the drug can be determined by measuring the viability of the target cells as they demonstrate if the drug is working.
Products for Bioprocessing / Cell Culture
Vi-CELL BLU
Use the Vi-CELL BLU for fast, small volume viability analysis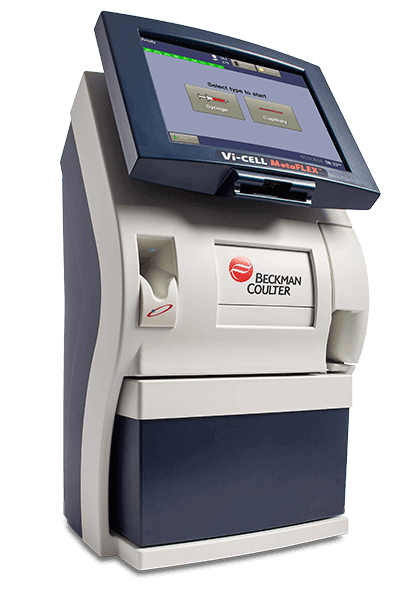 Vi-CELL MetaFLEX
Use the Vi-CELL MetaFLEX for immediate, accurate analysis of bioreactor media analysis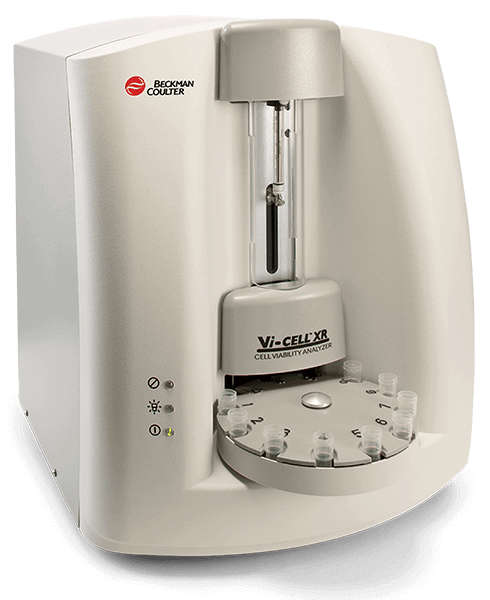 Vi-CELL XR
Use the Vi-CELL XR for cell viability analysis