Vi-CELL XR Software: Power, flexibility and simplicity
Now compatible with Windows 10®
R&D, QC and Manufacturing Applications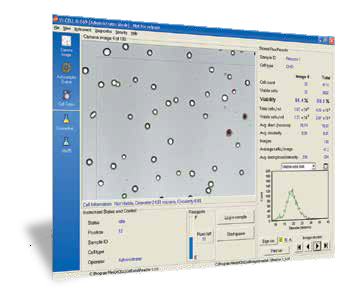 The Vi-CELL XR software interface has been designed for simplicity; yet offers numerous innovative features for those users demanding maximum flexibility. For many users the main screen may be the only one they need. Everything the user requires to log in samples and view results is right there.
All of the available graphs, including viability %, viable size distribution, and total cells /mL are easily selectable via the drop-down menu.
The bioprocess tracking, auto-sampler queue and control monitoring features are easily accessed via the novel navigation bar on the left side of the screen.
Real-time cellular imaging provides additional information not available using standard aperture cell counting methods. This image combines cellular detail with viability, size and concentration.

Design

The Vi-CELL XR bioprocess tracking feature allows convenient, automated tracking of your cell culture parameters, essential for bioreactor productivity.
Data points of total cell counts and viability percent are electronically recorded and stored, reducing potential errors in manual recording.

21 CFR Part 11

The Electronic Records and Electronic Signatures Rule (21 CFR Part 11) was established by the Food and Drug Administration (FDA) to define the requirements for submitting documentation in electronic form and the criteria for approved electronic signatures. Since analytical instrument systems such as the Vi-CELL XR generate electronic records, these systems should facilitate compliance with the Electronic Records Rule. By selecting the 21 CFR Part 11 option in the software, it automatically allows the user to configure the system. The Vi-CELL XR features the following key system components to facilitate 21 CFR 11 compliance:

Audit trail
Electronic signature capability
Secure user sign-on
User level permissions
Administrative configuration tools

Windows 10® Upgrade

To support Windows 10® OS, the Vi-CELL XR Software has been updated to version 2.06.3. Below is a summary of the changes/updates in version 2.06.3 from the previous 2.06.2 version.

Change/Update in 2.06.3

Camera driver supports Windows 10® OS 64-bit and Windows 7® OS32-bit
Ability to export data as .txt file type
Removal of the ability by an Administrator to convert a user to a service user by using the user list. A service user can only be created by a service user.
Security is ON by default the first time the Software is launched on a new installation
Use of "invalid characters" are not accepted in text input fields
Under the Preferences settings, editing the significant digits display in version 2.06.2 was not being applied, in version 2.06.3 the setting is saved and applied correctly
Preferences reverted to default settings after opening and closing software has been corrected.
Error displays when signing samples with different sample directories has been corrected.
File not found error when files were associated with the incorrect folder has been corrected.
Title on error messages has been corrected.
Software allows up to 99 users and does not crash if more users are attempted.

If you are currently using an earlier software version and would like to upgrade to version 2.06.3 please contact your Beckman Coulter representative.

Please note that the Vi-CELL XR Application Software 2.06 (both 2.06.1 and 2.06.2) requires MS Windows 7® operating systems 32 bit and requires AVT Guppy Camera PN A61768. All Vi-CELL XR instruments manufactured after September 2009 or later, starting with Serial Number AN36202, will have the AVT Guppy Camera. If the Vi-CELL XR instrument has a previous version camera, please contact your Beckman Service Engineer for information regarding a camera upgrade.

Computer System:

The computer system requirements used to validate the Vi-CELL XR software application using Windows 7® or Windows 10® Operating System are as follows:

Operating System: Windows 7® Professional 32-bit English or Windows 10® Professional 64-bit English
Ram: 8 GB
Hard Drive: 500 GB
DVD Drive: DVD Recordable 8X Max Dual Layer
Monitor: XGA
Graphics Card: Intel Graphics Media Accelerator HD, (1280 x 1024)
Host Controller: OHCI compatible IEEE - 1394 FireWire card
RS232 Port
Windows and driver version information

OS - Windows 10® Version 1709
Processor - intel i5-8500 3.00GHz
GPU – Intel UHD Graphics 630
Graphics Driver – version 24.20.100.6287 - https://www.dell.com/support/home/us/en/04/drivers/driversdetails?driverid=16jxf
Firewire Driver – VIA OHCI-1394 (intek)
Talk to an Expert
Sorry, this form is not available.